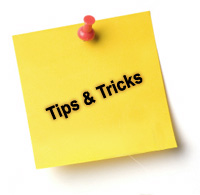 Stay ahead of the game with current real estate information and tips that will save you time and money! Check back for new tips and tricks every two weeks.
How To Buy A Home With Zero Cash
The Zero Cash Down Payment Program offers you a way to buy a home with no down payment. That's right zero down payment. Program Qualifications:
An excellent credit history
At least 3 years of employment stability
The financial ability to carry larger monthly payments
---
A systemized approach to the home buying process can help you steer clear of these common traps.
Bidding Blind – Know the market value of the home.
Buying the Wrong Home – Clearly define your wants and needs.
Unclear Title – Have a preliminary title search done.
Inaccurate Survey – Request an updated property survey.
Undisclosed defects – Conduct a thorough inspection early on.
Not Getting Mortgage Pre-approval – Know what you qualify for.
Contract Misses – Make a list of agreed issues. Check them off.
Hidden Costs – Uncover ALL costs.
Rushing the Closing – See ALL paperwork BEFORE you sign.
---
5 Facts About Fixer Upper Homes
Before deciding that your next home should be a fixer-upper, you should do some homework. Consider these facts:
Necessary renovations can be a costly investment.
Home inspections are necessary even for fixer-uppers.
Location is key! Don't buy in a bad neighborhood.
No matter how much you invest, the market will only return what it can bear.
Some single family homes cannot be converted to multi-family dwellings. Check zoning laws!
---
8 Reasons To Buy A Home Now!
Pride of Ownership – Give your family a sense of stability and security.
Appreciation – Over the years, real estate has consistently appreciated.
Mortgage Interest Deductions – Home ownership is a superb tax shelter and our tax rates favor homeowners.
Property Tax Deductions – Real estate property taxes paid for a first home and a vacation home are fully deductible for income tax purposes.
Capital Gain Exclusion – You can exclude up to $250,000 for an individual or $500,000 for a married couple of profit from capital gains.
Preferential tax Treatment – If you receive more profit than the allowable exclusion upon sale of your home, that profit will be considered a capital asset.
Mortgage Reduction Builds Equity – Each month, part of your monthly payment is applied to the principal balance of your loan, which reduces your obligation.
Equity Loans – Consumers can borrow against a home's equity for a variety of reasons such as home improvement, college, and medical.
---
Following are red flags that you may want to ponder before plunging into buying a home or making the decision to continue renting. Don't by if…
You have NO down payment
You have bad credit
You have high debt ratios
You have little job security
Renting can be 50% cheaper
You tend to move every year
You have an unstable relationship
You travel constantly
Everyone else is doing it